On these pages you will find mainly images of hobby metalworking tools, lathes, mills etc.
Some Recommended Books
The Amateur's Lathe - L.H. Sparey, Published by Argus is an excellent book that is well written and easy to follow. It covers introductions to Lathes, what to look for when choosing to buy one and how to set it up when you get it home. There are sections on some useful accessories advice on marking out, holding the work and how to undertake some basic machining tasks. It tends to assume a basic knowledge of machining but it is still a good book for a beginner to read.
The Myford Series 7 Manual by Ian Bradley and published by Nexus is out of print but still Myford had a good stock in January 2005 when I bought mine for the cover price plus postage, around £15 in total. I have seen this book going on Ebay for upwards of £50! Questions to the individuals selling this go unanswered, so beware! Apart from that it is a good book to have if you have one of the 7 series. Basically it tells you how to install and maintain your Myford lathe with a little bit of advice on using a 7 series for turning and milling.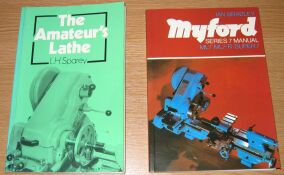 The Amateur's Lathe and the Myford Series 7 Manual
Tap sizes
Every time I want to drill and tap a hole I find I am searching for the drill size info. Here is a list of general purpose sizes. Note that different materials may be better with slightly different sizes.
All images (c) Mike Willis 2005