Dish Antennas
Gain
G = 4p Ae / l2 where Ae is the effective area Ae = n x A
n = illumination efficiency and A = pD2/4 where D = dish diameter.
Beamwidth
This is related to the gain. For a circular dish, the half power beamwidth in the Electrical plane is qE = 73l / D. A useful approximation where the half power beamwidth is expressed in degrees gives the gain in dB:
Gain (dB) ~ 10 log10 [31,000 / (Elevation Beamwidth) x (Azimuth Beamwidth)]
Focal length of parabolic dish
This only works for prime focus dishes but can be useful. Measure the diameter of the dish, call this value D. Then measure the depth of the dish, the distance from from the plane of the rim to the centre and call this value d. Then:
FL = D2 / 16d
Focal point of a parabolic satellite dish
Focal point inside horn = dFL/ D - dD/16 FL

D = dish diameter
d = feed waveguide aperture diameter (without scalar ring)
FL = dish focal length (prime focus)
Far Field/Near Field

Aa antenna is not a point source of radiation and this has to be taken into account when calculating the field strength at a distance from the antenna. At large distances, a dish may be considered as effectively equivalent to a point source, this is the far field. In the far field, the wavefront can be considered to be planar with E and H field vectors normal to the direction of propagation. Close to the dish is the near field region, where evaluating the E and H fields is more complex. The transition from near field to far field is not sharp, however the near field for a parabolic antenna is generally considered to extend out to the distance:
dnearfield < pD2/8l

The far field distance is given by:
dfarfield >2D2/l

Where D is the dish diameter and l the wavelength.
Some figures may be of interest, at 10GHz with a 1m dish, the far field distance is 70m.
RF Exposure
At the inner edge of the far field region of a dish, the power flux density (PFD) for a transmitted power P may be calculated as:
PFD = 3pP/64D2 watts/m2
The situation in the near field is more complex. For a dish antenna with a tapered feed the variation in near field power density with distance and normalised to unity at the edge of the far field (2D2/l) can be modelled as:

where

R = Distance from aperture.

To calculate the field, increase the power density at the edge of the far field by the ratio calculated from the equation above.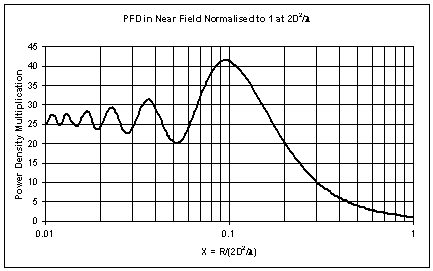 When working out exposure limits the maximum value of the above function has been taken as a worst case. This occurs near X = 0.1, which is 10% of the far field distance. The correction factor at this point is 41.3.